Vega Enterprise SBC VM/Hybrid: The Flexibility, Redundancy and Durability of a VM-Ready Solution with the Scalability of a Hardware-Based Solution
Supports 25-500 Simultaneous Sessions
Field Upgradeable
Browser-Based GUI for easier provisioning and management
Security and QOS for Enterprise Networks
DoS/DDoS Attack Protection
Network Interconnect Point for SIP Trunking
Topology Hiding for Fraud Protection
UNIQUE HYBRID FEATURES

Media Offload to Hardware Resource
Maintains SBC in Virtual Environment
Media Functions on Specialized hardware Resource
Overview
The Vega Enterprise SBC provides Security and Interoperability for Enterprise Networks. The browser-based GUI makes the Vega eSBC one of the easiest to provision and manage. The straight-forward, session-based licensing model also makes the Vega eSBC one of the most cost-effective SBCs to deploy and maintain in the field.
Protection from Enterprise Security Threats:
Denial of Services

Call/registration overload
Malformed messages (fuzzing)

Configuration errors

Mis-configured devices
Operator and application errors

Theft of service / Fraud

Unauthorized users
Unauthorized media types

BYOD

Smartphones running unauthorized apps
Viruses and Malware attacking your VoIP network
Specifications
| | |
| --- | --- |
| Feature/Function | Vega Enterprise SBC VM/Hybrid |
| HDD | N/A |
| Power | N/A |
| Rack Mount | |
| Ethernet | N/A |
| Hardware-assisted RTP | |
| Session Capacity | 500 |
| Field Upgradeable | |
| Hardware-ready for Upgrade to Capacity | N/A |
VoIP
SIP Trunking and Remote Working
SIP Intrusion Prevention
SIP Registration Scan Attack Detection
SIP Request Rate Limiting
SIP Friendly Load Limitation
SIP Registration Pass-thru
SIP Header Normalization
SIP Malformed Packet Protection
Advanced NAT Traversal Capabilities
Topology Hiding
ENUM Routing
Media Capabilities
Voice, Video, FAX, IM and Presence Support
Full RTP Transcoding (G.711, G.722, G.729, G.726, G.723.1, iLBC, AMR, G.722.1)
T.38 Fax Relay
Session and Monitoring
Multiple Session Routing Options
RTCP Statistics Reports
QoS (ToS or DSCP)
RADIUS CDR and Authentication
QoS Monitoring and Reporting
Security
DDoS / DoS Attack Protection
Call Security with TLS/SRTP
Media Security with SRTP
IPSec Encryption
IP Firewall
Call Control
Advanced XML Routing Engine
Dynamic Load Balancing and Call Routing
Multiple Call Access Control Options
Least Cost Routing
Rate Limiting: Call and Registration
Endpoint Authentication
Media Bandwidth Policy
Intelligent Media Anchoring/Release
Management
Easy to Use Web Interface
HTTP XML-based CDR
Real-time Monitoring and Debugging
Support and Professional Services
Sangoma engineers are here to support your success. Whether you need technical support and softwaremaintenance, training, consultation and installation services, Sangoma can help you. Contact your Sales representative for more information.
Warranty
Standard 12-month warranty is included. Additional warranty services available, contact your Sales representative for more information.
How to order
| | |
| --- | --- |
| SKU | Item Description |
| SBCT-HYB-025 | Vega SBC VM/Hybrid with 25 Sessions |
| SBCT-HYB-050 | Vega SBC VM/Hybrid with 50 Sessions |
| SBCT-HYB-100 | Vega SBC VM/Hybrid with 100 Sessions |
| SBCT-HYB-250 | Vega SBC VM/Hybrid with 250 Sessions |
| SBCT-HYB-500 | Vega SBC VM/Hybrid with 500 Sessions |
To become an authorized Empowered by Sangoma channel partner, please visit http://www.sangoma.com/partners.
To purchase now, Contact an Empowered by Sangoma Distributor, Reseller, or Solution Partner near you. Look for the Empowered by Sangoma Logo.
Session Border Controller Use Cases
Lync Interworking with IP-PBX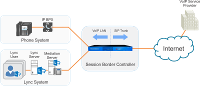 Lync can be deployed as an adjunct to an existing corporate PBX or IP-PBX to deliver UC functions with a minimum of disruption to on-going business operations. By leveraging functions of the existing system (Dial Plan, Voice Mail, Automated Attendant, IVR) and using Lync to provide UC functions such as presence, screen sharing and instant messaging, the benefits of UC can be realized while still allowing staff to follow familiar and efficient practices through use of their existing telephone system […]
Hosted PBX SBC Use Case
The proliferation of VoIP technology has enabled a range of new services that were previously not cost-effective or even practical using the legacy Public Switched Telephone Network (PSTN). The VoIP service provider supplies SIP trunks and cost-effective virtual PBX services using a large, robust and redundant platform. The corporate client gets all the advantages of a PBX without the need to install, maintain or manage the PBX system […]
Remote Office Connection without VPN
Connectivity between each branch office and the central IP-PBX is achieved through the internet without the complications and expense of managing VPN connections or each trunk […]
SIP Trunking – Carrier
SIP Trunking – Carrier Carriers offering SIP trunking services must provide a secure environment that their customers can trust, especially when these services are delivered over the internet. Carriers also aim to reduce or eliminate interoperability difficulties between their equipment and that of their clients. The security of a VoIP network can be breached at […]
SIP Trunking – Enterprise
Our lower Density SIP Gateways are the only ones in their price class that deliver great voice quality, ease of configuration and failover/fallback features […]